10 Best Data Visualization Books(Must Read)
Nowadays, data visualization has been getting more and more popular.If you want to learn more about data visualization and how to create a more effective visualization, there are some books that can help you to do that.
Today, we will go over the top 10 best data visualization books that are very useful in day-to-day applications such as visual storytelling and effective representations of facts in context.
1.Now You See It by Stephen Few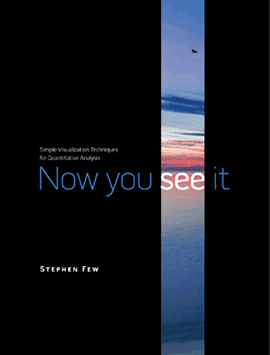 This book discusses what charts we should use for common tasks in data analysis. Even though the size of the book is big, it does not contain that much text. I think this is a great book for data visualization designers who have no experience as a data analyst at all. It can also enrich your knowledge if you have some experiences.
Check price and more reviews on Amazon
2.The Visual Display of Quantitative Information by Edward Tufte
This book is really great as I think the ratio of the graphics and text is pleasant as it is evenly distributed. In addition, I found a lot of new insights despite it being published in the '80s, which is amazing. You can find ideas on how to make common charts like scatterplot more effective. This book is highly recommended for anyone who is interested in data visualization, whether you are new or experienced.
Check price and more reviews on Amazon
3.Information Graphics by Sandra Rendgen, Julius Wiedemann

This book is great if you are looking for examples because it has more than 400 examples of information graphics from all around the world that covers education, business, journalism art, government and even more. You can also find essays that introduce you to the theory, data journalism, and history of visualization. I personally think that it is a very inspiring book.
Check price and more reviews on Amazon
4.Show Me the Numbers by Stephen Few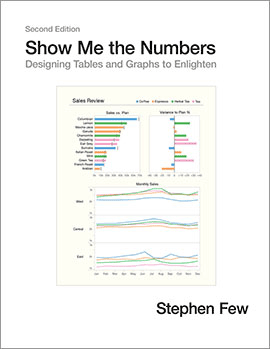 There are no colorful and fancy visualizations in this book because it only teaches you about the basics of visualization by using simple charts and tables; instead, you will find bar charts, scatter plots and things like that. However, this is a great way to start! If you want to understand the basics of visualization it will be easier for you to start with simple things. Moreover, you can find a great summary of visual perception that is applied to visualization. If you decide to this book then you will have a very solid foundation.
Check price and more reviews on Amazon
5.Information Dashboard Design by Stephen Few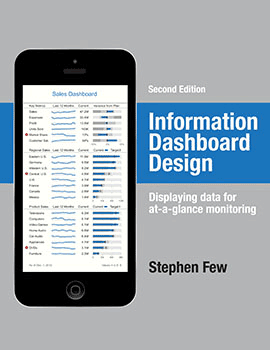 This is another amazing book that is packed with examples of bad and good dashboards. Stephen Few also did an amazing introduction to the principles of the theory of design and data visualization before explaining about dashboards.
Check price and more reviews on Amazon
6.The Functional Art by Alberto Cairo

This is one of my favorite books. As a data journalist who also teaches visualization and information graphics, Alberto Cairo did a great job. This book explains how important it is to stick to best practices while keeping your work beautiful so that you can engage other people. I highly recommend this book.
Check price and more reviews on Amazon
7.Visual Thinking for Design by Colin Ware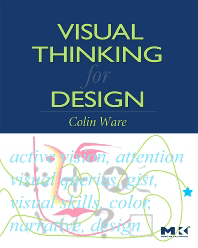 Did you know that there is science behind data visualization? There is, and if you are interested in the science, this book is the right one for you. It introduces you to cognitive psychology and design. By understanding these things, you will have better insights and become a better designer in no time.
Check price and more reviews on Amazon
8.The Accidental Analyst by Eileen and Stephen McDaniel

Another great book you can read is the Accidental Analyst. This book talks about what can you do when you need to do analytic projects even though you were not trained as an analyst. Surprisingly, many people find themselves in this situation. We have the access to data, but we are not analysts. You can learn how to break down projects into segments and then deliver it effectively.
Check price and more reviews on Amazon
9.Beautiful Visualization by Julie Steele, Noah Iliinsky

This book is a great way to approach visual design. It discusses the development of popular visualizations as well as designs. It is one of the best books out there.
Check price and more reviews on Amazon
10.Semiology of Graphics by Jacques Bertin

This is the last great book on the least. Even though it is old, you can find a clear and beautiful theory of data visualization. The writers are thinkers who have come up with breakthroughs in data visualization concepts.
Check price and more reviews on Amazon
Conclusion
That was my list of the top 10 best data visualization books. These books are great for anyone who is interested in data visualization as you will undoubtedly get new insights and inspirations after reading them.